barca-to-uruguay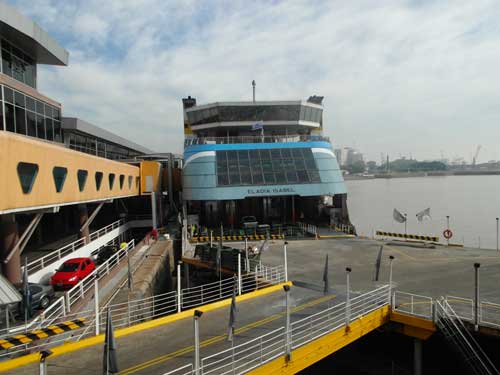 By Judy Pinegar
Feb 13 &14, 2013
After a frustrating morning trying to make reservations in the north eastern part of Argentina, we decided to go to Uruguay.  So a Subte ride downtown and a visit to the Barcobus (Ferry) Terminal and we had two tickets to travel on the ferry to Colonia del Sacramento in Uruguay.
On the way back we visited the park of San Martin, a beautiful park with wild trees and an equestrian monument in bronze on a base of polished granite that does honor to General Jose de San Martin and four major milestones related to South American independence.
The next day, Feb 14 we boarded the barca (ferry) named the Eladia Isabel to Uruguay and three very smooth hours later we were there. There was entertainment, food and beverages and views of islands and container ships. We found a much improved terminal on the Uruguayan side from our last visit, and a short taxi ride got us to the nice hotel.
It was located in a area we remembered from our last visit, and we were hoping the same restaurant down the calle (street) was open… it was and we had a wonderful meal of rack of lamb and a wonderful salad with fresh fruit (see pictures).
Colonia del Sacramento was founded in 1680 by the Portuguese. What still remains, stone houses, streets of cobblestones (sometimes slanted toward the middle so the rain can drain down), old walls that were formerly a fortress in the old part of town are enchanting. And the whole town is filled with trees, just like our Sacramento, California.

View Larger Map
For all your real estate neeeds
Call or email:
John J. O'Dell Realtor® GRI
Civil Engineer
General Contractor
(530) 263-1091
Email jodell@nevadacounty.com
DRE# 00669941
Related articles