By Judy J. Pinegar
On Sunday, May  27, 2012 John and I went for a walk. Leaving the Flour Garden Cafe in Grass Valley, we traveled north on Hwy 49 to the parking lot for the Independence Trail. Studying the map, we decided to try the East Trail. We had Angel on a leash, and it seemed to be the direction she wanted to go, so we humored her.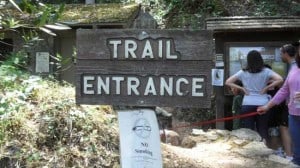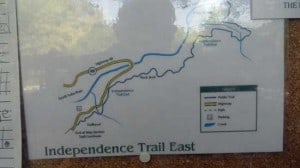 The first part of the trail seemed to literally be at two levels, the main trail on a lower level, a smaller trail on the rise to the left of the main  trail. Occasionally those traveling the higher trail were forced to move down to the lower trail, where the trail narrowed or over bridges, but the upper trail continued for quite some way. For a while the trail seemed to follow the highway, but finally we turned to follow the river, and there was a beautiful green swimming hole.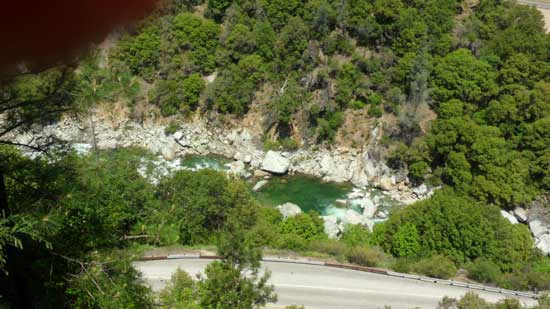 Continuing, the trail turned into a bridge the skirted the side of huge rocks, no ground beneath our feet! And then a neat tunnel, a rock perched on top of twp or three other rocks, and you could pass underneath if with just a little bit of tucking out heads; there was no way around it, so if you wanted to continue the walk, you went under the rock!!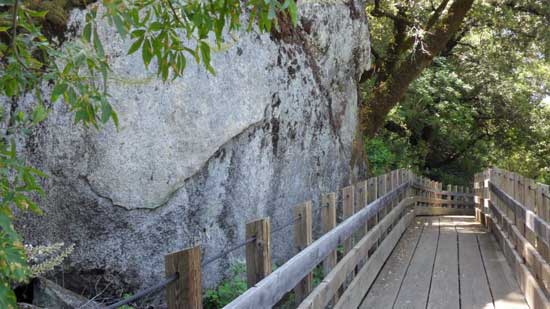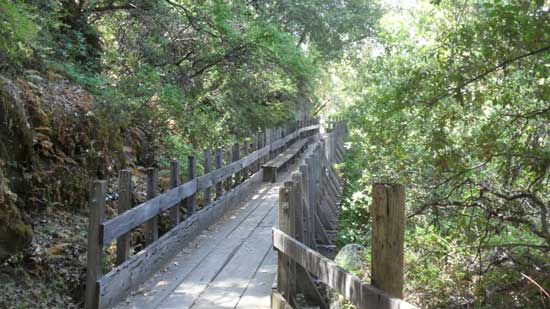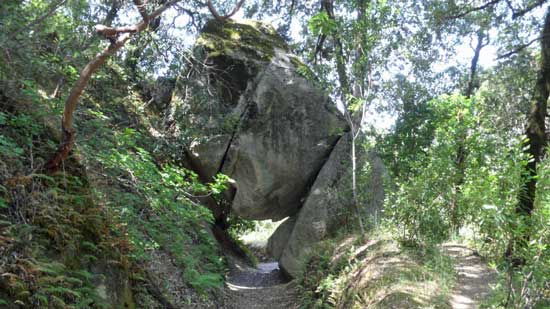 Oh and did I mention the poison oak??  You could tell they had TRIED to eradicate the stuff on the main trails, but it was still there, hiding a little way back from the trail.  As a person who is horribly allergic, I stayed in the middle of the trail and hoped John would keep Angel out of it (she was getting no pats from me until she had a bath!).
And speaking of Angel we had been forcing her to keep going on for about the last 15 minutes, for a strong, fierce looking dog, she really is a sissy in the wilds! After a good 45 minutes or so we met a couple coming back. They said they had walked for about an hour and hadn't seen the river yet. We decided to follow Angels lead and come on back, next time maybe we will leave her home!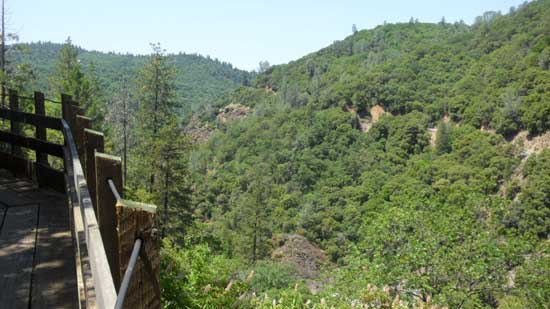 Judy J. Pinegar is a writer and her articles have appeared in many publications
John J. O'Dell Realtor® GRI
Civil Engineer
General Contractor
(530) 263-1091
Email jodell@nevadacounty.com