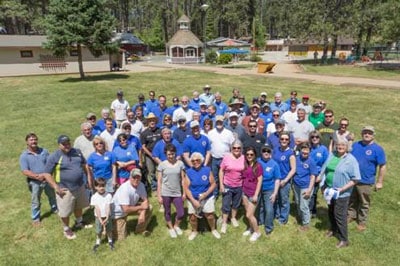 More than 180 volunteers participated in the Rotary at Work Day at the Nevada County Fairgrounds on Saturday. Organized by Nevada County's Rotary Clubs, volunteers spent the day fixing up and sprucing up the community's Fairgrounds.
More than 180 volunteers spend a day "beautifying" the Nevada County Fairgrounds
On Saturday, Nevada County's Rotary Clubs – Grass Valley Rotary, Nevada City Rotary, Nevada City 49er Breakfast Rotary, Penn Valley Rotary, and South Nevada County Rotary – joined together for the second year for the Rotary at Work Day at the Nevada County Fairgrounds. Local contractors and volunteers from Bear River FFA, NU FFA, Sierra College Volunteer Club, Interact Club from Lyman Gilmore and Seven Hills, and Boy Scouts and Girl Scouts, also participated in the event, which amounted to more than 180 individuals volunteering their time and efforts to perform much-needed repairs and maintenance at the Nevada County Fairgrounds.
The volunteers worked hard staining fences, replacing roofs, laying concrete, painting barns, planting trees, removing decking and raking the grounds.  They also replaced a dilapidated billboard that faced Highway 20 with a new billboard that includes the Fairgrounds logo.
In addition to the volunteer efforts, there were numerous contractors and suppliers who donated goods and services – Waste Management, Caseywood, Earley Concrete Pumping, BP Landscaping, C & D Construction, Hanson Bros., Viking Roofing, DMCE Concrete, Moule Paint and Glass, Grass Valley Signs, and JSM Construction.
"The work completed at the Fairgrounds this weekend, and at last year's Rotary at Work Day, serve as another reminder of the ongoing support and generosity of our community," said Sandy Woods, CEO of the Nevada County Fairgrounds. "We are so grateful to the Rotarians for organizing this yearly event, and we thank all the volunteers and businesses for their efforts in ensuring that the Fairgrounds remain beautiful and a source of pride for our community."
"It was an amazing day filled with so much enthusiasm for the work at hand," said Scott Spencer, organizer of the event. "We aimed high this year – and we met our goals! It is amazing what can be accomplished when a large group works together for a common goal. A special thank you goes to the Nevada County Fairgrounds' maintenance crew for all their work in preparing for the Rotary at Work Day, and for going above and beyond the call of duty to accommodate the various needs for this event. It truly was a team effort."
With 180 volunteers at this year's Rotary at Work Day, and more than 200 at last year's event, this event continues to be the largest one-day community service project conducted in the county.
By: Wendy Oaks
Publicist, Nevada County Fairgrounds
(530) 273-6217
Website: www.NevadaCountyFair.com
Facebook: Nevada County Fairgrounds
Nevada County Fair                          August 7 – 11, 2013
Draft Horse Classic                            September 19 – 22, 2013
Halloween at the Fairgrounds      October 26, 2013
Country Christmas Faire                  November 29 – December 1, 2013
For all your real estate needs
Email or call today:
John J. O'Dell Realtor® GRI
Civil Engineer
General Contractor
(530) 263-1091
Email jodell@nevadacounty.com
DRE#00669941