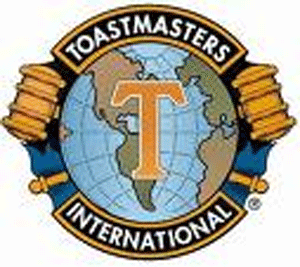 By Lisa J. Lehr
Would you like to have more communicative employees—or be one? Have a more effective sales force, or be a trainer with phenomenal presentation skills? Be a more confident, competent leader? Be persuasive, inspirational, and/or entertaining?
That's what 235,000 people around the world are doing right now, and it's called Toastmasters International.
This might sound like a shameless plug for Toastmasters…and perhaps it is, because I've been a member of Toastmasters for over 10 months now, and I love it, and so do my fellow Toastmasters, and we'd love to have more company!
Toastmasters is an international organization that provides training in speaking and leadership that is on a par with expensive and extensive professional training programs, yet at a fraction of the cost and time commitment.
Nevada County is lucky to have four different Toastmasters Clubs—unusual for a community of our size. Mother Lode Toastmasters meets Monday evenings; Early Risers Toastmasters, Tuesday mornings; Penn Valley Club, Wednesday evenings; and the club I belong to, Empire Toastmasters, meets every Friday at noon at Trolley Junction Restaurant (at the Northern Queen Hotel) in Nevada City.
We're a small, friendly, supportive group dedicated to helping each other improve at a comfortable pace, wherever we each currently are with our speaking and leadership skills. Our meetings are open to anyone who is interested. Come as a guest; you'll be invited (but not required!) to participate in Table Topics, in which participants each speak impromptu for about a minute on a given theme. It's often the highlight of the meeting, and almost always provides the most laughs. Lunch is $14 and reservations are not required.
My fellow Toastmasters and I are available to do a presentation for your business or organization that will explain the program in much greater detail. My own personal and professional growth through Toastmasters has been nothing short of astonishing in less than a year, and my fellow club members have similar stories to tell about being "the shyest person who ever lived"—but no more, thanks to Toastmasters!
Visit this link for more information about the local clubs:
Lisa J. Lehr is a writer and copywriter living in Grass Valley. She can help you promote your business with a full range of online and offline marketing pieces. A member of Empire Toastmasters, she's available to speak to your business or professional group. Visit her website www.justrightcopy.com for more information, opt in for a message series, and receive a free Marketing Guide.
Lisa J. Lehr
I write words that make you money–just ask me how.
Visit my website and sign up for my fr~ee marketing tips.
New! No~cost Marketing Guide now available at my website.