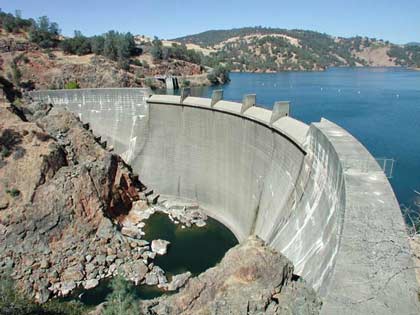 Englebright Lake offers a great deal of recreation including boating, camping and fishing. It's located in Nevada-Yuba Counties, California. The lake was named after Harry Lane Englebright (January 2, 1884-May 13, 1943) who was a politician that served in the United States House of Representatives. He was a House minority whip between 1933 and 1943.  He was a mining engineer prior to entering politics in 1926 and was reelected every two years for the rest of his life.
Englebright Dam is a concrete arch structure and was constructed for the storage of hydraulic gold mining debris. The dam spans 1,142 feet across and is 260 feet high. The dam is in the steep Yuba River gorge known as the Narrows, holding back a 9 mile long lake with a surface area of 815 acres. It has 24 miles of shoreline and is at an elevation of 527 feet.
The shoreline is rocky and steep, with some areas of sandy beaches with pines and oaks.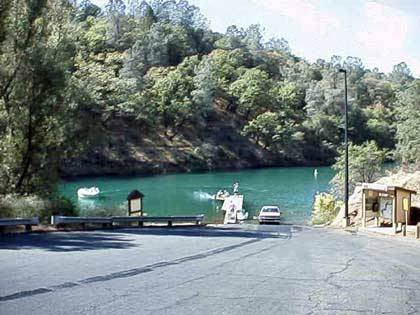 Operating Hours:
Office hours are Monday – Friday 8:00 a.m. – 4:00 p.m. The park is open all year.
Camping:
Camping at Englebright Lake is unique as all campsites are boat-in only and located along the lake's 24 miles of shoreline. Each campsite consists of a table, fire grill, lantern hanger and level spot for tents. Portable restrooms are centrally located in all campgrounds. Drinking water is available near each launch ramp.
Group Camping: (reservations required)
Point Defiance Recreation Area features a group campground that is available by reservation only. To help protect our natural resources, groups are limited to 50 people. Call the park office for reservations.
Boating:
The lake provides plenty of space for the boating enthusiast, water skier or angler. Boats can be launched from one of two boat ramps located near the park's entrance. Due to narrow canyons and sharp bends, the upper 4 miles of the lake are not suitable for waterskiing and/or towing any type of inflatable device. Therefore, these activities are restricted to the lower five miles of the lake. A counter-clockwise direction of travel is strictly enforced for the safety of park visitors. Types of boating allowed, power, row, Jet Ski, windsurf, canoe, sail, water ski, house, and inflatable's are allowed. There is a full service marina with launch ramps. Rentals: fishing, canoe, water ski boats, houseboats & patio boats. There are also docks, berths, moorings and gas.
Fishing:
To the expert or beginning angler, Englebright means fish. Game fish such as rainbow and brown trout, large and smallmouth bass and Kokanee salmon abound in the lake's clear, cool water. Catfish and sunfish can also be caught. Fish may be taken from the shore or boat by bottom fishing or trolling with bright, flashy lures.
Day Use:
Picnic facilities are available at the Narrows Recreation Area. Each site has a picnic table, barbeque grill and lawn area. Enjoy a short scenic hike to the dam overlook area or along the less strenuous fishing access trail.
Ranger Programs:Group tours and ranger programs can be scheduled by calling 530-432-6427.
Boat-in Camping: (first-come first-served basis)
Contacts:
U.S. Army Corps of Engineers
P.O. Box 6
Smartville, CA 95977-0006
(530) 432-6427 or fax (530) 432-6418
Email: englebright-info@usace.army.mil
Skippers Cove Marina  (530) 432-6302 offers boat  rentals, mooring, gas, sewage pumping and store facilities.
Additional information on the amount of settlement from the gold mining days and run off are available by a recent study made by the USGS at
Bathymetric and geophysical surveys of Englebright Lake